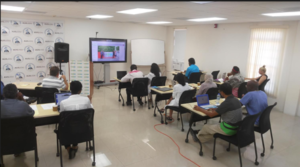 Teaching for Learning: Implementation of Flipped and Problem Based Learning into AUIS System-Based Curriculum
The Faculty Development Committee of AUIS SOM Barbados conducted a Faculty Development Seminar for AUIS Lecturers and Professors on December 6th, 2019. There were four 45 minutes sessions followed by a short workshop.
The general sessions were conducted by Dr. S. Adlekha, Dr. T. Chadha, Dean of Basic Sciences Dr. A. Podcheko; and the Chief Information Officer of AUIS Mr. Richard Levy. The presenters did a great job and were well prepared. The after session discussions were directed to figure out how to effectively combine PBL, TBL Flipped Classroom learning in a way that would benefit specifically to AUIS students.
The Canvas LMS training session directed by Mr. Bharat Puranam. He demonstrated how to manage more efficiently Canvas Question Banks and how to add external applications to Canvas (Youtube, Screencast Matic, etc.). Thus the faculty development seminar was a real overall value addition for the faculty members and was an academically enriching experience. Link to seminar presentations is here: https://bit.ly/2Ypvgfz
AUIS Administration thanks all members of the AUIS Faculty Affairs Committee for the organization of the event.