Martha Elise Lambert Stokely, MS PhD
---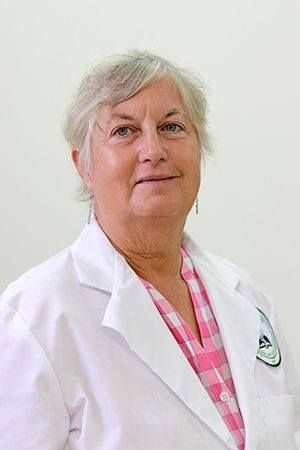 Previous Positions
Assistant Professor of Neuroscience, Xavier School of Medicine, Aruba and American University of the Caribbean, St. Maarten
Assistant Professor of Pharmacology and Neuroscience, University of North Texas Health Science Center at Fort Worth,, Texas
Contact Information
Biography

Dr. Stokely brings with her a noble philosophy that says "Medical students are a sacred responsibility." Beginning her medical career with a degree in Chemistry from the University of Texas at Arlington, Dr. Stokely went on to acquire her Ph.D. from the University of North Texas Health Science Center. Her employment history began with Postdoctoral Associate, Department of Pharmacology and Neuroscience in 2003. Dr. Stokely ultimately became an Associate Professor of Neuroscience, in 2013 and then came to teach at AUIS in 2016.

DR. STOKELY ANSWERS YOUR QUESTIONS:

1. Why did you choose your specialty? I fell in love with Neuroscience because it's beautiful, intricate, and elegant of function.

2. Why did you choose your particular area of biomedical research? Research is one way we can help to make the world a better place. I select my research projects in my best attempt to match my assets and abilities with projects where believe I can do the most genuine good.

3. Why Did You Decide to Become a Medical School Teacher? Helping to make better doctors is the slow-but-sure way to make the world a better place, one patient at a time. It's not the most glamorous way, but it works.

4. What are your strengths as a teacher in the medical school? I pay attention and listen carefully to each of my students, so I can understand how best to bridge the gap between their current understanding of the nervous system and the understanding they will need to have as a physician (or possibly a neurologist). I also work very hard to streamline all my teaching materials so they're easy to learn from and are readily accessible for students from all learning styles. My students are important. They're the reason I go to work in the morning.

5. What do you want to achieve as a teacher at AUIS? I want to make the world a better place, one doctor at a time. And I hope that each of those doctors to make the world a better place, one patient at a time. We all pay-forward.

6. What do you like to do in your spare time and why? I like to sail, to read, & to appreciate the natural world around me.

Research Interests

Presentations

Publications

Activities

T. Yorio, G. Prasanna, A. Dibas, and M. E. Stokely "Endothelin Antagonists and Endothelin-Converting Enzyme Inhibitors for the Treatment of Glaucoma," U.S. Patent Application Serial No. 60/285,960.

M. E. Stokely and P. Koulen "Combinational therapies to protect, regenerate, and repair both axons and myelin in neurodegenerative-inflammatory conditions of the nervous system." Initiated on April 24, 2008. International Patent Application # PCT/US2009/060198.

SOCIETY MEMBERSHIPS AND NATIONAL OFFICES: American Society for Neurochemistry (member 1999-present)

ASN OFFICES & COMMITTEES: Scientific Program Committee for the 2011 National Meeting (2009-2011)

Nominating Committee of the American Society for Neurochemistry (2010-present)

Chair Organizing Committee American Society for Neurochemistry's Educational Event (2010)

Deputy-Chair Standing Rules Committee of American Society for Neurochemistry (2009-2010)

Standing Rules Committee of the ASN (2004-2010)

Society for Neuroscience (member since 1994)

Association for Research in Vision and Ophthalmology (member glaucoma section since 2000)

REVIEWER FOR SCIENTIFIC JOURNALS

Neuroscience

Histology and Histopathology

COMPLETED RESEARCH:

Beginning Grant-In-Aid (Stokely) 07/01/07-06/30/10 $118,182 direct costs American Heart Association/American Stroke Association Axon and synaptic pathology in an ex vivo model of ischemic stroke: Mechanisms and treatments. The major goal of this project is to understand mechanisms that may underlie secondary neuronal losses associated with ischemic stroke by using an ex vivo hippocampal slice model to assess early post-ischemic axon and synaptic pathology, define the role(s) that ApoE isoforms and endothelin-1 play in expansion of the initial infarct, and assay the therapeutic potential of "neuroprotective" ApoE isoforms and phytoestrogens against secondary axon and synaptic pathology following ischemic stroke.

1 R21 AT003605-01A1 (Stokely) 06/01/07-05/31/10 $275,000 direct costs NIH/NCCAM Mechanisms and effects of phytoestrogen treatment in autoimmune optic neuritis The major goal of this project is to evaluate the effects of phytoestrogen treatment on the inhibition of endothelin-1 synthesis and its role in the development of early multiple sclerosis-like pathologies in the optic nerve, using a very early and highly sensitive animal model for this disease.

MEMBER - SCIENTIFIC PROGRAM COMMITTEE for ASN 2011, organizing the scientific program for American Society for Neurochemistry's 42nd Annual Meeting in St. Louis, March 19-23, 2011.

CHAIR - ORGANIZING COMMITTEE FOR THE AMERICAN SOCIETY FOR NEUROCHEMISTRY'S EDUCATIONAL STUDENT EVENT at the American Society For Neurochemistry's 41ST Annual Meeting in Santa Fe, New Mexico March 6-10, 2010.

CHAIR - "NEURODEGENERATION AND NEUROTOXICITY" PRESENTATION SESSION at the American Society For Neurochemistry's 40th Annual Meeting in Charleston, South Carolina March 7-11, 2009.

CO-CHAIR "LATE-BREAKING ABSTRACTS" SESSION at the American Society For Neurochemistry's 37th Annual Meeting in Portland, Oregon (March 15, 2006).

INVITED SPEAKER WITH PUBLISHED PROCEEDINGS "Women In Neurochemistry," Interdisciplinary Symposium on Women, Tarleton State University, Stephenville, TX, March 24, 2005. Research Achievement Award 2006, awarded by Alcon Research Ltd., Fort Worth, Texas

Nominee for 2005 Lighthouse International's 25th annual Pisart Vision Award, New York, New York, 2005, award ($10,000) for extraordinary contribution to the prevention, cure, or treatment of severe vision impairment or blindness

Ruth L. Kirschstein National Research Service Award Postdoctoral Fellow (EM Meyer and MA King, mentors) Neurobiology of Aging, Department of Neuroscience, University of Florida at Gainesville, Gainesville, Florida, April 2003-January 2005

Nominee for 2003 Lewis Rudin Glaucoma Prize of the New York Academy of Medicine, New York, New York, 2003, award ($50,000) for the previous year's most outstanding article in glaucoma research (for "Effects of endothelin-1 on components of anterograde axonal transport in optic nerve," by Stokely, et al. published in IOVS 43:3223-3230).

North Texas Eye Research Institute Travel Grant 2001, from the North Texas Eye Research Institute, Fort Worth, Texas. Joseph M. and Eula C. Lawrence Travel Scholarship Award 2000, from the Retina Research Foundation, Houston, Texas.

News

Duis aute irure dolor in reprehenderit in voluptate velit esse cillum dolore eu fugiat nulla pariatur. Excepteur sint occaecat cupidatat proident.
Education & Training
PhD: University of North Texas Health Science Center
MS: Texas Christian University
BA: University of Texas at Arlington
Departments & Committees
Neuroscience
Evidence Based Medicine
Chair,Student Academic Review Committee
Faculty Affairs Committee
Drug testing Committee
Ethics Committee