How prepared are you
for medical school?
There is no right or wrong answer to this question. Its purpose is to assess your current readiness level and determine what's needed for you to accomplish your goals. That is our mission. Educating and training physicians to treat patients as a whole, symbiotic being. AUIS trains our doctors to do more than treat the symptoms, and focus on treating the person. We teach that the entire body is a machine and every organ system in the body is needed to function in some particular way.
Eliminating symptoms and continuing to keep the entire body in perspective is what AUIS is about. More than ever, competent medical professionals are needed worldwide and no skill set is more needed than those of a medical doctor. It is in that mindset that AUIS prepares our student physicians.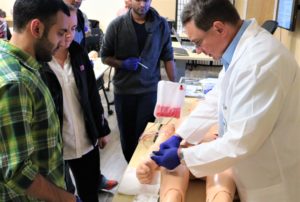 Required Documents
Entering medical school requires any medical university to assess the education and preparedness level of applicants who desire entry. Our admissions committee and academic departments review every applicant. Then, our admissions lead makes acceptance decisions based on the information provided by the applicant, our admissions interviews, and the review of an applicant's transcript. Without the following documents, it is impossible for us to determine an applicant is qualified for acceptance or not. Furthermore, our Admissions department will not process an application further until the required documents are available for review, and the AUIS billing department has confirmed receipt of the application fee.
We need your Personal Statement, your Resume/CV, and a copy of your Transcripts. Due to current events, and the challenges the world faces in the midst of COVID-19, an unofficial copy of your Transcripts is acceptable at this time. These documents are required to be considered for any of our programs and failure to provide these documents will lead to your application not being processed.
AUIS takes pride in being a student-focused university, and that means our seats fill quickly. Prospective students that wish to begin our admissions process, and those who have all the required documents; and have paid their seat deposits in full; are given priority. From there, availability is on a first-come, first-serve basis.