Impact of COVID 19 on Medical Education at AUIS – July 1, 2020
As Provost and Clinical Dean for the American University of Integrative Sciences, I would like to take this opportunity to update our faculty and student body, on the ramifications the COVID 19 pandemic has had on our undergraduate medical education curriculum. I would also like to inform you of our continuing efforts to adapt and develop new strategies to educate our medical students.
Let's face it, COVID 19 has rocked our world as we knew it, the global economy, businesses, health care sector, and our educational system; to name a few. It is a medical education and the path forward I would like to update you on in this post.
In the past, the trajectory to residency after being accepted to a medical school was relatively straight forward. Complete the first two years of undergraduate pre-clinical basic sciences, sit for Step 1 of USMLE Step 1, complete two years of clinical clerkship and successfully taking the USMLE Step 2 CK and CS exams and apply to residency. As a result of the COVID 19 pandemic, this trajectory has been challenged by a number of factors. Classroom lectures have been canceled and replaced by an online lecture format, most clinical clerkships have been forced to be canceled as a result of hospitals attempting to minimize personal interactions and following recommended guidelines of social distancing. Likewise, this policy has also been implemented to minimize student exposure to patients who harbor a potentially lethal virus.
COVID 19 has proven itself as a formidable opponent. The science community is still learning the many aspects and manifestations of this viral disease. Initially, it was thought that patients could only be infected by contact with infected animals, a zoonotic disease, we now recognize that person to person contact is indeed the common mode of transmission. Originally, public health officials reported that infection could be transmitted by symptomatic patients, only to learn that up to 80% of patients with COVID are asymptomatic. Prior to the global outbreak, it was postulated that this was a respiratory virus leading to interstitial pneumonia and had a propensity for the elderly, particularly those with underlying co-morbidities. We now recognize that the COVID 19 virus also affects the GI tract, some with no respiratory symptoms, consistent with the early Chinese reported fecal-oral root of transmission. COVID 19 has been demonstrated to also cause hypercoagulability, associated with elevated d-dimer levels, thrombosis, stroke, cardiac arrhythmias, myocardial infarction, and congestive heart failure. We now understand that younger patients can acquire COVID and that it does not primarily affect only older patients. As this virus continues to wreak carnage, our understanding of the many clinical manifestations has and will continue to evolve.
As a learning institute, faculty at AUIS have explored different educational and learning platforms in our efforts to provide continued medical education to our undergraduate students both preclinical and clinical. Like other stateside medical schools, the number of on-line programs has expanded to meet the need. Many senior medical students are concerned by the disruption and uncertainty of applying for residency. Without rotations in different specialties and have the first-hand experience in that particular discipline, it poses a difficulty for students to be comfortable with a designated area for residency specialization. The following chart illustrates the factors that Residency Program Directors utilize to select students for interviews. Factors were deemed most important if a minimum of 70% of program directors said they used them.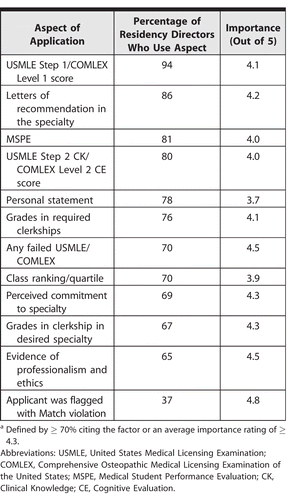 Perusing this list, one can recognize that many factors used in the past for selection are currently not available. Examples include letters of recommendation in the specialty are not possible if rotations with preceptors are not feasible, generating an MSPE likewise is not possible without completing both core and elective clerkships, USMLE Step 2 CS testing has been put on hold for 12 to 18 months. In addition, the change of making USMLE Step 1 a pass/fail exam has removed another determinant used in the past in choosing residents based on numerical grade. However, AUIS students need to be reassured you are not in this alone, and what you are experiencing has permeated all medical schools and universities. As medical researchers are aggressively attempting to produce a vaccine and bring it to market, likewise educators are identifying and developing educational products that will meet the demands of licensing boards, and residency directors, while abiding federal, state and local laws, obeying guidelines of social distancing and attempting to flatten the curve. Some are predicting a second wave that could emerge as early as the fall. As
an educational institute, we need to prepare for a marathon and not a sprint, as I foresee this virus and its many manifestations to continue to alter our life as we previously knew it.
As Shadi Hamid in the Atlantic reports:
"In moments of crisis and civil unrest, people always say that things will never be the same. But the act of living is a bit more circular than we give it credit for. Things might never be exactly the same as they once were, but they do tend to at least return to some previous and somehow tolerable baseline. Human beings, facing crisis, find ways to adapt, sometimes ingeniously. Life, otherwise would be unbearable."
Students at AUIS should consider that the US health care system has depended on IMGs to fill residency positions since the 1970s. Today, 1 in 4 physicians practicing in the US is an IMG. The changes we are experiencing in medical education are applicable to all stateside schools as well as international medical schools. The bottom line, there is job security in knowing that the US health care system is heavily dependent on your services and with the retirement of the "baby boomer" generation of physicians there is increased need for physicians, especially in rural locations.
Students should consider that many schools, in fact, the majority of medical students no longer attend preclinical classes in person, but rather watch lectures online. (JAMA 05/2020) Ultimately, the COVID pandemic will further accelerate the application of this platform of education and even improve its application. What I am excited about is the fact that medical students are on the cusp of a sweeping overhaul of medical education as we previously knew it. Software developers, educators, and entrepreneurs are rapidly exploring and developing online educational programs that will enhance and not hinder medical education.
AUIS is pleased to inform our student body that we are in the final stages of launching a new virtual on-line emergency medicine elective to run over a month for credit, involving multiple virtual case simulations with debriefing and feedback by our Clinical Dean. This elective will be credited as satisfying one elective rotation in the 80 weeks of required clerkship rotations.
On the horizon, AUIS is exploring other avenues and platforms to provide medical education to our student body. This includes utilizing social media, particularly Twitter to keep up with biomedical literature and to evaluate clinical practice in the configuration of a medical journal club. The administration is anticipating and preparing for the USMLE Step 2 CS to begin rescheduling students to take this exam at a future date. We acknowledge that during periods in which clinical exposure to patients has been curtailed, that student will need to hone their clinical skills and SOAP note writing in preparation for this exam. We will be offering weekend refresher courses in Atlanta for students to tweak and revivify their clinical skill sets prior to taking the exam. The format will include a two-day intensive course in our simulation lab with one on one critiquing and training with our clinical dean, Dr. Penney. Since instituting the Advanced Clinical Medicine program at AUIS, we have been successful in reducing the failure rate to less than 1% on this important exam. More information will be available once FSMB has released a date for scheduling.
For those students who prefer to maintain their clinical skills throughout the Pandemic period, a two-day weekend course is available for a limited number of students. Following strict guidelines for social distancing and mandatory mask protection, this course will be limited to 6 students or less and held in our Atlanta Simulation Lab.
Once clearance is obtained from the NIH/CDC to resume classroom teaching the ACM course will be available for the one-month intensive pre-clerkship program with advanced training for the USMLE Step 2 CS exam.
As Hamid reported:
"Things might never be exactly the same as they once were, but they do tend to at least return to some previous and somehow tolerable baseline"
It is my belief and understanding that once the nidus of this pandemic has abated, AUIS will evolve and be stronger, offering medical educational content in multiple formats, allowing for distance learning as well as classroom instruction. Essentially, COVID 19 has catalyzed a transformation of pedagogical methods, to guide us into the future.
Don W. Penney MD.MSC.FACEP.
Neurological Surgeon
Provost/Dean Clinical Affairs, AUIS.