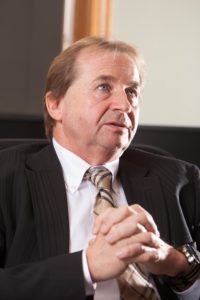 Celebrating my third anniversary as the Provost and Dean of Clinical Affairs of the American University of Integrative Sciences; it gives me great pleasure to outline the school's accomplishments over my tenure.
Many students approach their consideration of which medical school to attend with consternation. It is understandable that many factors have to be evaluated. It is has become apparent to me, in my many discussions with prospective students, the differences between the approximate 30 Caribbean Medical Schools that are currently in operation is a major issue to discern. From the outset, it has been my goal to establish AUIS as not another Caribbean medical school, but rather an American School operating in the Caribbean. This is supported by the fact, that our administrative offices are in Atlanta, Georgia and that all of our clinical rotations are in the United States or Canada.
AUIS operates under the guidelines established by the American Association of Medical Colleges. It prides itself on being the first to establish itself to implement, Entrustable Professional Activities (EPA) as part of the requirements for graduation with the MD degree. These proficiency's are requirements dictated by the AAMC for both American and Canadian medical schools. In order to ensure their implementation and completion; they have been incorporated as an a integral part of the undergraduate MD program. In addition, students preparing for the clinical rotations are required to complete a 4 week mandatory course the Advanced Clinical Medicine Course in Atlanta in which I oversee and instruct advanced clinical skills, physical exam assessment, OSCE (Observed Structural Clinical Examination) enhanced by multiple simulations with both standardized patients and simulators.
For those not familiar with OSCE assessment, it is part of the preparation for success on STEP 2 USMLE CS exam, a requirement for medical licensing in the United States. Equally, this form of testing is also a requirement for licensing in Canada. Although the core medical student curriculum has not changed greatly, the structure and make-up of OSCE's has undergone advancement. Over the past decade, the United States Medical Licensing Exam (USMLE) has changed. Passing scores have increased, partly due to the fact American and Canadian medical schools have implemented OSCE training programs as a core requirement. USA and Canadian medical schools now place a huge emphasis on the clinical OSCE encounters as a way of assessing the clinical competency of future doctors. Success on the USMLE CS exam evaluates not only the candidate's clinical skills but also humanistic assessment and data gathering. In short, a future doctor's "bedside manner."
The following lists the (EPA's) as a requirement for completion of the MD degree at AUIS. Likewise residency directors expect that all 13 EPA's have been met prior to graduation with a medical degree.
Entrust-able Professional Activities (EPA)
EPA 1: Gather History and Perform a Physical Exam
EPA 2: Prioritize a differential Diagnosis following a clinical encounter
EPA 3: Recommend and interpret common diagnostic and screening tests
EPA 4: Enter and discuss orders and prescriptions
EPA 5: Document a clinical encounter in the patient record
EPA 6: Provide an Oral Presentation of a Clinical Encounter
EPA 7: Form Clinical Questions and Retrieve Evidence to Advanced Patient Care
EPA 8: Give or Receive a Patient Handover to Transition Care Responsibility
EPA 9: Collaborate as a Member of an Inter-professional Team
EPA 10: Recognize a Patient requiring Urgent or Emergent and Initiate Evaluation Care and Initiate Evaluation and Management
EPA 11: Obtain Informed Consent for Tests and/or Procedures
EPA 12: Perform General Procedures of a Physician
EPA 13: Identify System Failures and Contribute to a Culture of SafetyAnd Improvement
In summary, for prospective students considering applying to medical school, understand that not all medical schools are equal. If the decision is to pursue the MD degree via a Caribbean Medical School, students should be aware and determine that the undergraduate medical education they will receive incorporates AAMC requirements for licensing.
As a physician having practiced medicine for the last 30 years in both Canada and the United States including a 25 year neurosurgical practice and a 30 year emergency medicine practice; I can assure you that AUIS will provide you an education built upon USA/Canadian standards. As Provost and Dean of Clinical Affairs, I have the privilege of currently teaching in two other American Medical Schools concomitant with fulfilling my administrative and teaching roles at AUIS. I can confidently tell you that the standards at AUIS are the same as my USA medical school counterparts.
Students who remain in the deciding phase of which medical schools to attend, please feel free to speak to me directly, if I can be of assistance.
Don W. Penney MD.MSC.FACEP.
Neurological Surgeon
Provost/ Dean Clinical Affairs
AUIS School of Medicine.